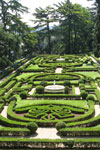 Vatican Gardens Botanical Tour
Preço de € 35.00
**At the moment you cannot book tickets for The Vaticans Gardens as they are under reconstruction, and we do not know when the gardens will be open again**

The Vatican Gardens Botanical Tour is for those who like to see The Vatican from different angle. Tickets for The Vatican Gardens Botanical Tour here!

This is a minibus tour through the botanical gardens behind St. Peter's Basilica. You'll see the English, French and Italian gardens, fountains, sculptures and monuments. The Vatican Gardens have been a Papal retreat since the 13th century. This tour offers a most unique atmosphere. Here you will walk in the footsteps of popes down the centuries, see the walled gardens, covering some 23 hectares, abound with rare and wonderful botanical specimens from across the globe.

History and archaeology is never too far away either. Orchards and vineyards have been cultivated there since medieval times and Pope Julius II redesigned the gardens in 1509. Baroque and Renaissance fountains and sculptures decorate the landscape.

The Rose Garden and replica Lourdes Grotto are highlights on this tour, which has become a popular next destination for customers who have seen the Vatican Museums and St. Peter's Church.

Important Information:
- Tour Duration: Approximately 2 hours
- Tour is in English
- No child prices, all pay normal price!
- There are NO hidden or extra Costs
- You will skip all official/public queues, and they can be VERY long, up to several hours in some cases. However on certain days like bank holidays, weekends and religious holidays there might be some queues. This cannot be avoided, but these queues will be far shorter than the public ones!
- The Tour is available Mon., Tue., Thur., Fri. & Sat. at 10:00AM.
- Cancellations can happen at very short notice. In these cases we will contact you and offer you alternative tour dates or will refund you!
- There is a strict dress code at the Vatican. Shoulders and knees must be covered for both women and men. Sandals are considered appropriate.
- Due to security and security checks, we strongly recommend that you do not bring any large bags or packages!
- This tour ends at The Vatican City!
Bilhetes a pedido

O nosso fornecedor local precisa confirmar a disponibilidade para este desempenho. Não deve durar mais de 24 horas.
Leia Mais
Vatican Gardens Botanical Tour Info
Vatican Gardens Botanical Tour
MEETING POINT:
When In Rome Tours
Via Sebastiano Veniero 21
000192 Roma, Italy
(Map, look under "directions")
Info
Vatican Gardens Botanical Tour
Mon., Tue., Thur., Fri. & Sat. at 10:00AM
Instruções
Instruções
Ottaviano Station. From here it is 5 min. walk!



Veja mapa